Overview of HTSQL
HTSQL was created in 2005 to provide an XPath-like HTTP interface to PostgreSQL for client-side XSLT screens and reports. HTSQL found its audience when analysts and researchers bypassed the user interface and started to use URLs directly. The language has evolved since then.
HTSQL is a comprehensive navigational query language for relational databases and web service gateway.
We develop HTSQL to liberate the Accidental Programmer—professionals and data experts who are not software engineers by trade, but who must write database queries or data processing code to get things done. HTSQL handles routine data processing needs in an accessible, transparent, rigorous and embeddable manner.
HTSQL was designed from the ground up as a self-serve reporting tool for data analysts. With HTSQL, the easy stuff is truly easy; and, the complex stuff is easy too.
In this section we introduce the fundamentals of HTSQL syntax and semantics. For a more incremental approach, please read the HTSQL Tutorial. For the purposes of this section, we use a fictitious university schema.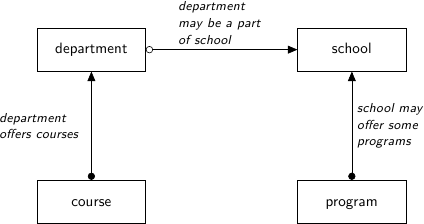 This data model has two top-level tables, school and department, where department has an optional link to school. Subordinate tables, course and program, have mandatory links to their parents.
Relational algebra is frequently inadequate for encoding business inquiries — elementary set operations do not correspond to meaningful data transformations. The SQL language itself is tedious, verbose, and provides poor means of abstraction. Yet, the relational database is an excellent tool for data modeling, storage and retrieval.
HTSQL reimagines what it means to query a database. The combination of a navigational model with data flows enables expressions that naturally reflect business inquiries. The HTSQL translator uses SQL as a target assembly language, which allows us to fix the query model and language while keeping current investment in relational systems.